New Freebie: Temperance for Miki 2 & Miki Finn
I made a face preset for Miki 2 and Miki Finn that I think turned out pretty cute. I decided to share it.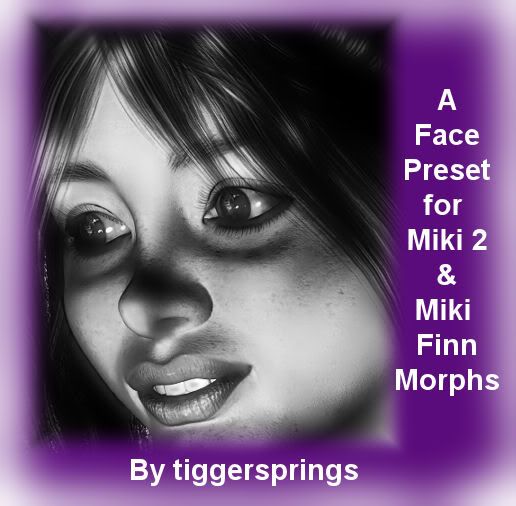 Click
here
to be taken to the download page.
Returning Freebies: 2010 Holiday Freebies Re-post
I decided to re-post my 2010 holiday freebies just in case they're still useful to anyone.
From
FaerieWylde's
Halloween Celebration:
Tian for A3
Alien for Chip & Chip Dough
Roti for Hiro 3
Robin for Sadie & Mae
Melissa for V3, her basic head morphs, & International Beauties morphs
Economic Blues Witch for Aiko 3 Freebies (see readme for list of freebies)
From
FaerieWylde's
Winter Solstice Celebration:
Melvin for M3, his Daz Morphs, and Predatron's Character Heads Bundle
Beryl for Koshini 2 & Puppet 2
From my blog:
Valentine Diner Cameras
And last, but not least,
Lassie
& Friends' 2010 Holiday Celebration:
Prudence for The Girl & Boopsie
Color & Create: Holiday Skunk PNG images
Color & Create: Naughty Elf PNG images
To time and space, I put all the holiday stuff on page. Visit it
here
Returning Freebies: Alva for Mavka & Minwee
Previously shared at The Daz commons, Alva for Mavka finally got a page
here
If you have any problems downloading...
This was a big update for one morning. If you have any problems downloading, let me know in the comments.
Have a great week.